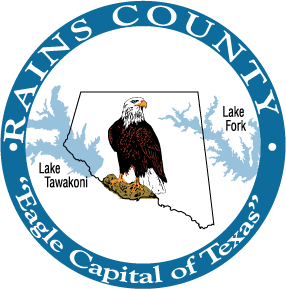 The Rains County Economic Growth, Inc. welcomes you to Rains County, the fourth-smallest county in Texas, offering the best of small-town living with big-city amenities a short drive away. The slower-paced country living provides an ideal atmosphere in which to raise a family.
Rains County is located just 65 miles east of the Dallas/Ft. Worth Metroplex and halfway between I-20 and I-30, at the intersection of State Highway 19 and U.S. Highway 69.
The Texas Department of Transportation is currently in the study phase of a project to widen US 69 into a four-lane highway across the entire width of Rains County, with an estimated completion date of 2005.
The people of Rains County have a strong work ethic with the majority commuting to jobs in neighboring counties due to a shortage of industry inside the county. Most would prefer to work locally if possible.
Historically, Rains County has proven to be an agricultural leader in the area, producing not only the state's largest crops of sweet potatoes and watermelons but also cattle and hogs.
The county is bounded by Lake Fork to the east and Lake Tawakoni to the west. Lake Fork has produced 36 of the state's top 50 bass and Lake Tawakoni is one of the hottest catfish and striped bass lakes in the state. Both lakes offer boating, fishing, camping, swimming and other recreational activities.
During the winter the lakes are home to many American Bald Eagles and other rare birds. Also in winter, common loons are occasionally observed in concentrations of up to 70 along the embankment edge at Lake Tawakoni.
In 1995, the 74th Legislature of the state of Texas passed a resolution declaring Rains County the "Eagle Capital of Texas." This led to Eagle Fest, an annual two-day event featuring guided bus and barge tours to Lake Fork, distinguished speakers, and live bird demonstrations.
The county seat hosts the week-long Rains County Fair each September. The fair features queens' pageants, gospel singing, creative arts and produce exhibits, a parade, and a livestock show and sale.
Other community activities include Founder's Day, Christmas Around the Square arts and crafts show, the annual Christmas parade, Tamale Fest and a chamber of commerce sponsored golf tournament.
The education of the area's children is ably provided by a county-wide school campus located near Emory. The district is currently building a new high school to meet the present and future needs of students as Rains County continues to grow. The Rains Independent School District is a state "Recognized" district.
A network of civic and social organizations, chambers of commerce, and four volunteer fire departments provides a strong backbone of community service with an emphasis on family values.
The tremendous growth the county is experiencing makes Rains County ripe for new businesses and industry — for both the entrepreneur as well as large corporations.